Let us introduce ourselves... we are Qweer, and damn proud of it!!!
Qweer was started by me, Joshua Bouman (I go by the pronouns he/they). It all started in my tiny, tiny, tiny… tiny New York apartment before the pandemic… like literally the week before.
When I went to buy Pride merch, I realised the big retail chains only had bland mass-market merch on offer (and only during one month of the year!!!)
What if I could create an independent label that had all artwork designed and produced by, do I dare say... a queer person? What if it was available... all year? What if we were to eliminate the isolating binary clothing sections and just provide clothes for... everyone?
Three years later we are still here and heaps Qweerer!
I started with the humble rainbow embroidered hat. While I was holding down a stay-at-home corporate job during the pandemic, I was also busily embroidering in between zoom meetings (well let's face it... mostly during... thank you video/sound optional).
As the pandemic settled down, it was hot gay summer and I was ready to take Qweer offline and spread some Qweer joy to the real world.
I opened a small pop-up at the world-famous Chelsea Market while simultaneously taking Qweer on the road to visit Pride festivals all of the USA. West Coast, East Coast... and everywhere in between. Where there was glitter, I was there with my little tent and hats.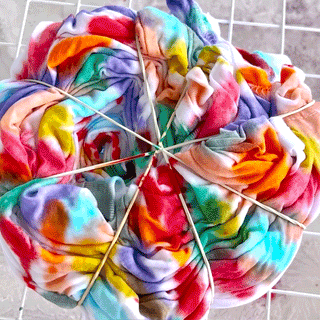 These days the label looks a little different. As the world changed, so did I. After nearly 10 years in the States, I returned home to spend more time with my family.
The label is now based in Sydney, Australia on Gadigal land. It's still a small business... like really small, it's still just me! All merch is hand tie-dyed, embroidered and hand screen-printed in small batches.

During World Pride, I rented a studio space on King St where I could do all the screen printing and embroidery out the back. On weekends, I open up the doors to the front of the shop where fellow queers can come hang out, watch me screen print, and view the new pieces IRL.
We still sell online to our global queers, and make a conscious effort to have pieces ready for all seasons.

Our plans for the future of Qweer are exciting. I am constantly experimenting and expanding the collections and I try to release new pieces weekly.
I also travel to Pride festivals and queer events around Australia and continue my mission of providing quality pieces by Qweers, for Qweers.